Countertop Materials for Your Kitchen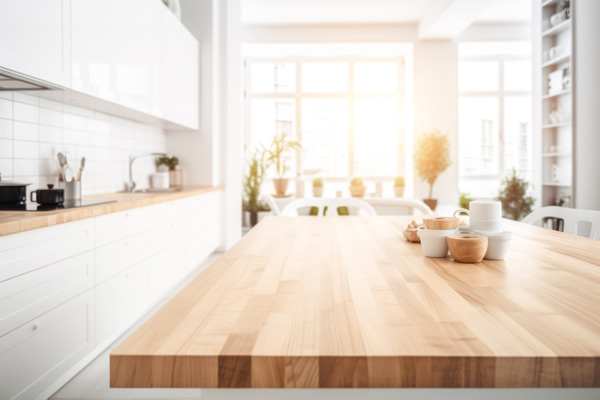 They say the kitchen is the heart of every home, and what better way to treat this important space than by ensuring you have all the right materials?
When it comes to your kitchen, there are a variety of options for cupboards, appliances, and countertops. What you may not realize, is how much you actually utilize your countertop space and the importance of choosing the right material for your cooking habits and style.
If you are considering a reno, or looking to purchase a new home, understanding the pros and cons of different countertops can ensure you make the best choices.
● Granite: A popular and durable option, granite comes in various colors and patterns. Along with being strong, it is resistant to heat and abrasion. However, it is a premium-price material and requires regular sealing every three to five years due to its porous nature.
● Marble: One of the more high-end options, similar to granite, marble provides a much-needed level of uniqueness in its patterns as well as holding up well to heat, cracking, and chipping. On the other hand, marble is more sensitive to scratches and staining and should be resealed at least once per year to improve longevity.
● Quartz: One of the most durable and maintenance-free countertop options, quartz comes in various options from vibrant to natural finish and is nearly indestructible under standard home conditions. Not only is quartz scratch-resistant, but it can also resist stains, bacteria, and heat damage.
● Laminate: If you're looking for a more budget-friendly option, laminate can be a great way to go. Not only can laminate be made to resemble stone, granite, or even quartz at a fraction of the cost, but it is also easy to clean
and maintain while being resistant to mold, mildew, and stains. However, bear in mind that laminate is quite sensitive to heat and can be prone to peeling or scratches.
● Butcher Block (or wood): Butcher-block wooden countertops have a great natural look while being a hardworking surface great for food prep and highly resistant to heat. However, as wood is quite porous it is important to properly seal and oil your countertops to reduce bacteria and moisture susceptibility.
● Stainless Steel: Opposite the natural look of butcher-block designs, stainless steel provides a much more industrial kitchen vibe. Stainless steel has become extremely appealing over the years due to the ease of wiping it down and its ability to inhibit bacteria buildup. However, not without its limits, stainless steel has a tendency to result in lots of water spots and fingerprints on its smooth surface. It is also more pricey than other options, but being impervious to heat damage has its charms.
● Soapstone: A wonderfully stain-resistant option, soapstone is entirely non-porous in addition to being heat and bacteria-resistant. However, to maintain this natural stone it needs to be treated regularly with oil and care must be taken to avoid surface damage such as scratches and dents.
● Ceramic Tile: Tile is an inexpensive option for your kitchen (and bathroom) counters, which is easy to install by an experienced do-it-yourselfer. Not only is tile inexpensive, but it comes in a variety of options and colors as
well as being hard, durable, and resistant to heat. Keep in mind, the sizing of your tiles as smaller tiles will be more difficult to clean as opposed to larger settings. Tile is also more vulnerable to cracking, though relatively easy to replace a broken piece. It is also important to note that grout can be prone to staining.
Regardless of what type of kitchen you are designing or moving into, knowing how to care for your countertops can help increase your kitchen longevity and enjoyment!
Published by DLC Marketing Team