Should You Hire an Interior Designer?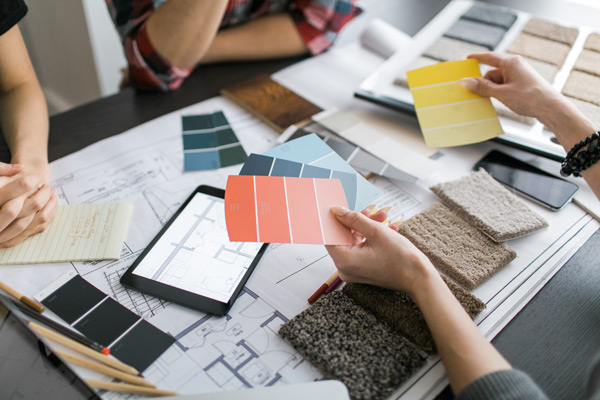 When it comes to furnishing a new home, building from scratch, or simply choosing to redecorate, there are many ways you can go about it. However, one of the first questions a lot of people consider is whether or not to hire an interior designer or do it themselves.
As with anything, there are certain expectations when it comes to hiring a professional in terms of experience and quality versus a DIY project. When it comes to hiring an interior designer, there are a few things to consider when it comes to the scope of the project, budgeting, and managing expectations.
Project Scope
Interior designers don't just handle full home renovations. In fact, there are many different levels of projects that you can utilize their expertise on such as:
● When moving, a designer can help decide which pieces of furniture to bring from your previous home, along with ideal placements and suggestions on additional pieces to fill out your space and capture your style.
● If you're considering a mid-level renovation, such as new kitchen countertops, an interior designer can offer insights depending on your lifestyle (such as why a quartz-lookalike countertop might work better than unsealed marble).
● When it comes to major renovations, a contractor can of course help you tear down walls and make changes, but an interior designer takes the process one step further by providing unique insights into a space ensuring that both large and small choices come together to form a functional space that suits your style.
Budget
While you might be thinking that an interior designer is just going to be an added cost to your renovation, there are a few things you should consider:
● Designers actually work within your budget and help keep you on track.
● Many designers typically pay or get trade pricing on a lot of their purchases, which is passed onto the client.
● They also have lots of tips and tricks when it comes to finding hidden gems and knowing what is worth the value and what isn't.
● With their wealth of knowledge, an interior designer can even help you choose where to cut corners (such as not opting for the fancy toilet) and instead help you spend extra money where it has the most impact (such as on a soaker tub).
● In some cases, interior designers will also notice things that can simply prevent expensive mistakes.
Managing Expectations
When it comes to hiring a professional, such as an interior designer, the purpose is to take advantage of their experience, knowledge, and trade secrets. However, there are a few things you can do that can help ensure your project goes off without a hitch:
● Be upfront about the scope and timeline of your project, as well as your expectations.
● If you have a particular style, you want but just aren't sure how to make it work, let them know so they can advise in advance if the project is up their alley.
● What you are and are not willing to compromise on (if anything).
Just like with your realtor, mortgage broker, and contractor, an interior designer works for YOU. While they often work well if they are given a budget and the space to work their magic, unlike how it seems on home renovation television shows, your interior designer will not do anything without your consent. You will be involved every step of the way.
Keep in mind to embrace the process and be open to the different ideas your interior designer may have to ensure your space is functional, beautiful and fresh!
Published by DLC Marketing Team